What's Happening this Week?
Epiphany Episcopal Church
Sunday, March 18, 2018
THE FIFTH SUNDAY OF LENT
8:00 am & 10:30 am Holy Eucharist & Sermon
9:30 am Bible Study
9:30 am Choir Rehearsal
10:25 am Sunday School
HOLY WEEK & EASTER SCHEDULE
March 25 Palm Sunday
8:00 & 10:30 am Blessing of Palms & Passion Narrative; Sermon & Holy Eucharist
March 29 Maundy Thursday
7:00 pm Foot Washing, Holy Eucharist & Tenebrae
March 30 Good Friday
12noon – 3:00 pm Stations of the Cross (Peace Garden)
7:00 Good Friday Liturgy & Reserved Sacrament
March 31 Holy Saturday
9:00 am – 12noon Benedictine Day: Study, Pray & Work Meet at the church and go through the morning in a Benedictine way– including contemplative reading and garden work.
April 1 Easter Sunday
8:00 am Holy Eucharist & Sermon
10:30 am Holy Eucharist & Sermon
12noon Easter Egg Hunt
WWI CONNECT
Do you have relative who served in WWI? Fill out a card or email his/her name (and other identifying information like a birth date) and we will look for his/he registration papers and deployment information. A display will be offered on June 3.
CROCHET POPPIES
Join Carol Henry, Kathleen deWit and others who are crocheting lapel poppies for the June 3 event. Want to learn? Sunday tutorials are available!
Sunday Worship Schedule
8:00 am Holy Eucharist Sermon
9:30 am Bible Study
9:30 am Choir Rehearsal
10:25 am Sunday School
10:30 am Holy Eucharist & Sermon
News about the Centennial Outdoor Concert & Dedication
We are excited to announce that Diane Rehm will be the keynote speaker on Sunday, June 3 at the Outdoor Concert & Dedication of The Centennial Memorial Gardens of Epiphany & Chapel & Church House.
She is a nationally admired journalist, author and speaker who has been the recipient of numerous awards including the Peabody Award, the National Humanities Medal, and the Walter Cronkite Faith and Freedom Award.
In our conversations, Diane Rehm mentioned that her father served in France with the US Army during WWI. In the wee hours of the morning while searching through the internet, his handwritten enlistment registration card and Army transportation records were found which uncovers the fact that he was trained and deployed from Camp Meade. Here is what Diane Rehm said when she saw the documents:
This is so stunning and such an honor to see these documents.
How in the world did you go about finding all this information?
How did you even know my father's name?
Thank you for the gifts you've given me.
I will do everything I can to be with you for the June 3rd ceremony.
Her father was with the Camp Meade Detachment 147th Infantry 37th Division.
I have since used the same methods to look for WWI information about my grandfather. Here is what I found: As a physician working at the city sanitarium in St. Louis, he deployed and shipped out on the Oxfordshire on 15 Aug 1918 and arrived in St. Nazaire, France. He returned on 19 Apr 1919 on the Kroonland. As a medical doctor he was a First Lieutenant and worked at an Evacuation Hospital No. 11. I have a photo of him standing in front of No. 11.
Do you have a father, grandfather or relative who served in WWI?
Share by email the name, information and your relationship and we will see what we can find.
Imagine…featuring a display on June 3 with the information that links US directly to those who served in WWI. It is stunning to see these documents which are often written by hand.
After a visit to the African American museum in DC recently these words from James Baldwin resonated:
"The great force of history comes from the fact that we carry it within us, are unconsciously controlled by it… History is literally present in all that we do."
With the help of Artist Janet Rogers the vision for the monument/gathering place continues to take shape. A gathering place. An altar. A garden. An outdoor chapel.
Here are some excerpts from Janet's presentation:
The storms and high winds of the past few days remind us of how vulnerable we are …. the trees, our homes, and cars can all be destroyed… but the rocks stay in place. Rocks and boulders … they are so permanent and so hard to move… which makes it all the more obvious that they are the Earth's substance of choice for monuments, memorials, altars … anything where permanence is required …. the Great Wall of China, Stonehenge in England, the pyramids in Egypt and closer to home, Mount Rushmore.
In that same way, the new WWI memorial monument will be a composition. This will be a gathering place, both fun and sacred at the same time. For some of you it will be a place to imagine the lives of those who walked here 100 years ago, and for others there will be more recent memories. This will be more than a few beautiful boulders and stones. Already there are new paths and a lined roadway, and the Memorial Garden will include benches and plantings….. shrubs, ground cover, perhaps a shade tree and the beautiful forged poppies. Be the artist, allow yourself to have the fun of being part of the creation of this memorial, right now, take this journey with your mind's eye …. think of the relationship of the stones and the church buildings near them.
Think of where you are seated now as part of this composition. And just as with any painting I might paint…. it is not what I see when I am finished, but what you see. Where do the images take you? That is what's important. If you see a painting of the Chesapeake Bay does it help you remember a personal experience of boating or swimming? Do you see a painting of flowers and remember a time when some were given you? Do some paintings make you sad because it makes you recall a story in your life?
Does a joyful painting of laughing children remind you of your own? It is a successful painting when it helps you remember and imagine and reflect.
When the memorial boulders and stones are in place they will say different things to different people. There won't be a right nor a wrong composition… and there won't be a right nor wrong interpretation. The materials have integrity and we know that because they are from the Earth and from a quarry nearby. The surrounding gardens will bloom and grow. The many visitors of the future and you in particular, will be greatly rewarded if you take the journey not just with your eyes, but also with your heart.
Mark your calendars now for the
Outdoor Concert & Dedication
on Sunday, June 3, 2018
1:00 – 3:00 pm
See the Invitation Draft
COME AND ENJOY!
Members of the Maryland Military Band
are rehearsing for the June 3 concert
at Epiphany Church on
Monday evening, March 12 at 7:30 pm.
Come and enjoy the preview!
Easter Resurrection Fund
The form is intended for members and friends of Epiphany and also for corporate sponsors and benefactors.
EASTER & CENTENNIAL MEMORIALS
This year's gifts are directed to the Centennial Resurrection Fund. Along with donation for Easter Flowers, the Iron Poppies forged by Belgium Blacksmiths (an integral part of the Centennial Monument) can be gifted with names included on a permanent bronze plaque outdoors as part of the monument. Other gifts from sponsor and benefactors will help complete the Centennial Memorial Gardens. Virginia Theological Seminary in Alexandria is our first benefactor!
Next Sunday is Palm Sunday! Only two weeks still Easter! Join us on Holy Thursday and Good Friday. Best to make memorial and thanksgiving gifts by Good Friday for inclusion in the Easter bulletin. Poppy Gifts are needed by Easter in order to forge the bronze name plaque in time for June 3. Special financial arrangements are available for those who would like to gift an iron poppy. RSVP The Rector
Here is a sample of what the plaque will look like: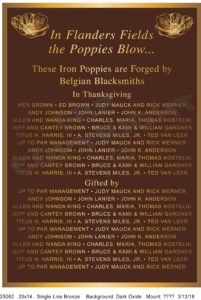 ANNUAL EVENTS
Fall Parish Picnic – The Feast of St. Francis & The Blessing of Animals – All Saint's Sunday and the Memorial Flower Cross Armistice Day Weekend – Saturday Ol' English Tea & Sunday Guest Speaker –  Advent Wreath Making – Christmas Pageant – Feast of the Epiphany – Dr. Martin Luther King, Jr. Sunday – Ash Wednesday Services – Lenten Book Group – Holy Week Services – Pentecost Sunday – June Parish Picnic
LOCATION 1419 Odenton Road Odenton MD 21113
410-336-8383 epiphanyodenton@gmail.com