What's Happening this Week?
Epiphany Episcopal Church
April 11, 2021
THE SECOND SUNDAY OF EASTER
10:30 am in the Chapel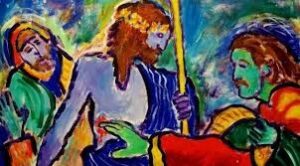 Celebrant: Alleluia! Christ is Risen!
People: The Lord is risen indeed. Alleluia! 
Opening Hymn   Christ is alive   1982 Hymnal – 182, vs. 1-2, 5   
The Collect
Almighty and everlasting God, who in the Paschal mystery established the new covenant of reconciliation:
Grant that all who have been reborn into the fellowship of Christ's Body may show forth in their lives what
they profess by their faith; through Jesus Christ our Lord, who lives and reigns with you and the Holy Spirit,
one God, for ever and ever. Amen.
The Gospel & Reflection 
John 20:19-31
When it was evening on that day, the first day of the week, and the doors of the house where the disciples had met were locked for fear of the Jews, Jesus came and stood among them and said, "Peace be with you." After he said this, he showed them his hands and his side. Then the disciples rejoiced when they saw the Lord. Jesus said to them again, "Peace be with you. As the Father has sent me, so I send you." When he had said this, he breathed on them and said to them, "Receive the Holy Spirit. If you forgive the sins of any, they are forgiven them; if you retain the sins of any, they are retained." But Thomas (who was called the Twin), one of the twelve, was not with them when Jesus came. So the other disciples told him, "We have seen the Lord." But he said to them, "Unless I see the mark of the nails in his hands, and put my finger in the mark of the nails and my hand in his side, I will not believe."A week later his disciples were again in the house, and Thomas was with them. Although the doors were shut, Jesus came and stood among them and said, "Peace be with you." Then he said to Thomas, "Put your finger here and see my hands. Reach out your hand and put it in my side. Do not doubt but believe." Thomas answered him, "My Lord and my God!" Jesus said to him, "Have you believed because you have seen me? Blessed are those who have not seen and yet have come to believe." Now Jesus did many other signs in the presence of his disciples, which are not written in this book. But these are written so that you may come to believe that Jesus is the Messiah, the Son of God, and that through believing you may have life in his name.
Prayers of the People 
Leader:  In peace, we pray to you, Lord God.
For all people in their daily life and work;
People: For our families, friends, and neighbors,
 and for those who are alone.
Leader: For this community, the nation, and the world;
People: For all who work for justice, freedom, and peace.
Leader: For the just and proper use of your creation;
People: For victims of hunger, fear, injustice, and oppression.
Leader: For the peace and unity of the Church of God;
People: For all who proclaim the Gospel, and all who seek the Truth.
Leader: For Michael, our Presiding Bishop, for Eugene and Robert,
our bishops; for all clergy and laity;
People: For all who serve God in his Church.
Leader: For the special needs and concerns of this congregation,
especially for all those effected by the Coronavirus
and for those working for racial justice.   (Silence). Hear us, Lord;
                People: For your mercy is great.
Leader: We thank you, Lord, for all the blessings of this life. (Silence)
We will exalt you, O God our King;
                People: And praise your Name for ever and ever.
Leader: We pray for all who have died, that they may have a place
in your eternal kingdom. (Silence)
Lord, let your loving-kindness be upon them;
       People: Who put their trust in you.
Celebrant:
O Lord our God, accept the fervent prayers of your people;
in the multitude of your mercies, look with compassion upon us and
all who turn to you for help; for you are gracious, O lover of souls,
and to you we give glory, Father, Son, and Holy Spirit, now and for ever. Amen.
Holy Communion 
"Do This is Remembrance of Me"
Bring bread to the Lord's table.
Communion Hymn   Because he lives    LEVAS  Hymnal – 43    
Communion Prayer
Eternal God, heavenly Father, you have graciously accepted us
as living members of your Son our Savior Jesus Christ, and you
have fed us with spiritual food in the Sacrament of his Body and
Blood. Send us now into the world in peace, and grant us strength
and courage to love and serve you with gladness and singleness
of heart; through Christ our Lord.  Amen.
Prayer for Peace 
O God, the Father of all, guide us into the ways of peace.
Lead us from prejudice to truth; deliver us from hatred, cruelty,
violence, and mean spiritedness; fill us with generosity, hospitality
and love, and in your good time enable us all to stand reconciled
before you, through Jesus Christ our Lord. Amen.
Birthday and Anniversary Blessings
Announcements
Final Blessing
All: Go forth into the world in peace; be of good courage; hold fast to that which is good; render to no one, evil for evil; strengthen the fainthearted; support the weak; help the afflicted; honor all; love and serve the Lord, rejoicing in power of the Holy Spirit.
Celebrant: And the blessing of God Almighty, the Father, the Son, and the Holy Spirit be upon you, and remain with you, now and forever. Amen.
Closing Hymn   Alleluia, alleluia!  1982 Hymnal – 178, vs. 1-3  
Celebrant: Let us go forth into the world, rejoicing in the power of the Holy Spirit. Alleluia! Alleluia!
People: Thanks be to God. Alleluia! Alleluia! 
THE PEACE OF THE LORD BE ALWAYS WITH YOU!
EASTER GIFTS
Gifts for Thanksgivings & Memorials
You are not too late!
Gifts and Memorials will be included
in the weekly emails/Order of Services throughout the Season of Easter.
This week's GIFTS will be included on Saturday.
Please use the form provided in the Easter mailing or simply email the information.
epiphanyodenton@gmail.com
Memorials
Laura Wetherald (Mary Levy)
James & Marjorie Louder, Tom & Miriam Gibboney, John & Nanette LaVault (Tom & Charlotte Gibboney)
The Conboy & Clark Families, Macie Stodghill (James H. Conboy)
Jan Dirk & Alettha E. de Wit, Wesley E & Lillian V. Sullivan (Kathleen & Pieter de Wit)
Ella May, James, Jay, & Robin Lewald, Phebe Corckran, Marguerite & Sam Tuttle,
Bruce & Margaret McPherson (Phebe & Bruce McPherson )
Molly Rose Bodnar, Paula, Gerry, Anne Bodnar, Esther & Joe Polvino (John & Maryellen Bodnar)
My brother, Clive (Rita Spohn)
Joseph Lamptey, Elizabeth Addy, Odarkor Lamptey (Mabel Quarcoopome)
Thanksgivings
Erik, Ben, Andrew, Katherine (Tom & Charlotte Gibboney)
Good Health for Everyone! (Yollette Scott-Wilson & Raymon Wilson)
Alexander & Rebekah, Sofia Saskia Kathleen (Kathleen & Pieter de Wit)
Eleanor & Arthur Coe (Phebe & Bruce McPherson)
Family & Friends (Mabel Quarcoopome)
WHAT TO DO IF YOU ARE COMING TO THE CHAPEL
Please arrive 5-10 minutes before the service. (10:20 am)
We welcome a Return, not to "normal" but to the familiar.
An RSVP is necessary to attend.
 Masks and social distancing, temperatures and a sign-in book for tracing are required.
 The Service will follow the Book of Common Prayer
Please bring your own BCP or this ORDER OF SERVICE.
Books/Hymnals will not be provided at the Chapel at this time.
Please continue to bring your own bread for communion.
Following the service we will gather for fellowship on the labyrinth garden porch.
ANNUAL EVENTS
Fall Parish Picnic – The Feast of St. Francis & The Blessing of Animals – All Saint's Sunday and the Memorial Flower Cross Armistice Day Weekend – Saturday Ol' English Tea & Sunday Guest Speaker –  Advent Wreath Making – Christmas Pageant – Feast of the Epiphany – Dr. Martin Luther King, Jr. Sunday – Ash Wednesday Services – Lenten Book Group – Holy Week Services – Pentecost Sunday – June Parish Picnic
LOCATION
1419 Odenton Road Odenton MD 21113
410-336-8383