What's Happening this Week?
Epiphany Episcopal Church
Weekly Service Information
Online Services Update
Starting October 9th, we are moving our online presence for the 10:30am service from Zoom to a YouTube Livestream. A YouTube account is NOT necessary to watch.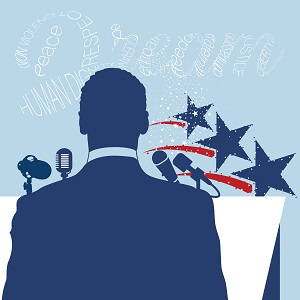 ONCE UPON A MAN
In celebration of Dr. Martin Luther King, Jr. Day
Harry Kendall Dowdy, Jr.
"Let freedom ring!"
said a man of faith and love.
I hear it ringing, ever ringing,
and know that freedom silenced today
will ring tomorrow.
Listen and you will hear freedom
ring from writs called Declaration and
Preamble, Articles and Amendments;
ring from mandates for "due process,"
"probable cause," "equal protection of laws;"
ring as deliverance from punishment on
the medieval rack or at the fiery stake;
ring from church bells that summon
the faithful to worship, not by force of the state
but by the force of faith.
Listen further and you will hear freedom
ring when the voter conducts
the nation's political orchestra;
ring from media free to expose wrongdoing;
ring when nonviolent citizens assemble
to lay their grievances at
the doorstep of constituted power;
ring in the cry, Oyez! Oyez! Oyez!
announcing the seating of Justice
in nine high-backed chairs
arrayed in a columned temple where
the rights of the meek equal
the rights of the mighty.
Of all its ringing,
freedom rings best when
deeds of love inspire a nation
to extend freedom in greater measure
to a greater number of its citizens,
as happened once upon a man.
Sunday Worship Schedule
8:00 am Holy Eucharist  & Sermon
9:15 am Choir Rehearsal
10:25 am Sunday School
10:30 am Holy Eucharist & Sermon
The Season of Lent
Sundays in Lent: 9:30 AM in the Conboy Center – "Episcopal 101" led by Rev. Anne.
Holy Week
April 1 – Walk the Stations of the Cross in the Grotto of Lourdes
April 2 – Palm Sunday
April 6 – Maundy Thursday
April 7 – Good Friday
April 9 – Easter Day
2023 Stewardship Pledge Drive
Please pick up a pledge form today and cross your name off the list. If you have already turned in a card, also cross your name off the list. We are trying to keep our mailing costs down and do not want to mail unneeded pledge cards.
Volunteer Committee Drive
Click here to read volunteer descriptions for some of the committees. Volunteer Descriptions
COVID Protocols
The Vestry is delighted to announce the following changes to our procedures:
• We recommend masks when coming to attend worship services.
• Clergy, liturgists and other speakers may be unmasked when speaking.
• When offering the peace, please be respectful of others' personal space.
• Offering will be collected during the Offertory Hymn performed by the Epiphany Choir.
• Beginning on October 2nd, we will begin to offer common cup or chalice during the Eucharist. Intinction in the main chalice is no longer permitted. If you do not wish to partake of the common cup, simply cross your arms across your chest and the chalicist will simply say the words of offering to you without you partaking of the wine. Please do whatever makes you most comfortable.
• Fellowship with food and drink is offered after the service. Weather permitting it will be outside on the deck, otherwise it will take place inside the Parish Hall in the Conboy Center.