What's Happening this Week?
Epiphany Episcopal Church
LENT 2019
Sunday, March 24, 2019
The Third Sunday Of Lent
8:00 am & 10:30 am Holy Eucharist & Sermon
9:30 am Bible Study –Come join us for Lent!
9:30 am Choir Rehearsal
10:25 am Sunday School
"Jesus & the Disinherited" by Howard Thurman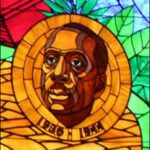 Stained Glass at Rankin Chapel
Following the 10:30 am Service.
Menu: Veggie Soup
Last Sunday we showed the new documentary (DVD) which also currently is being shown on PBS…"Backs Against the Wall: The Howard Thurman Story."
THIS WEEK
Jesus and the Disinherited Chapter 1
Jesus and the Disinherited Chapter 2
(You are encouraged to purchase a copy of the book.)
It is my personal Lenten Offering to type it chapter by chapter/week by week.
SUNDAY MOVIE-TIME!
A movie and supper for the children! — Title TBA
A movie and supper for adults — August Wilson's "FENCES" featuring Denzel Washington & Viola Davis
Sunday Worship Schedule
8:00 am Holy Eucharist  & Sermon
9:30 am Bible Study
9:30 am Choir Rehearsal
10:25 am Sunday School
10:30 am Holy Eucharist & Sermon
NEXT WEEK
Sunday, March 31 Soup & Book Group Discussion
Chapter Three AND Chapter Four DECEPTION. HATE.
📣📣📣
MORE TO FOLLOW….
We are thrilled to announce that on Sunday, April 7
(Fifth Sunday of Lent)
Riley Keene Temple, Esq. author of AUNT ESTER'S CHILDREN REDEEMED: Journeys to Freedom in August Wilson's Ten Plays of the Twentieth-Century Black America will be our guest preacher for a Lenten Spiritual Renewal Weekend. Please mark your calendars. More information will follow.
Riley Keene Temple is an avid American arts advocate and supporter and has been honored for his leadership of arts organizations. He is a telecommunications attorney in Washington DC where his Board memberships include the National Archives Foundation and the Trust for the National Endowment for the Humanities. He has written frequently on theology and the creative arts.
Sunday, April 14
Palm Sunday
Friday, April 19
Good Friday
Stations of the Cross in the Garden 12 noon – 6:00 pm
7:00 pm Good Friday Service
Sunday, April 21
Easter Sunday!
DEEP RIVER AND THE NEGRO SPIRITUAL SPEAKS OF LIFE AND DEATH
By Howard Thurman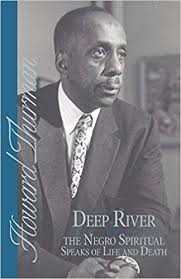 The ante-bellum Negro preacher was the greatest single factor in determining the spiritual destiny of the slave community. He it was who gave to the masses of his fellows a point of view that became for them a veritable Door of Hope. His ministry was greatly restricted as to movement, function, and opportunities of leadership, but he himself was blessed with one important insight: he was convinced that every human being was a child of God. This belief included the slave as well as the master. Thus his one message springing full grown from the mind of God repeated in man ways a wide range of variations:"You are created in God's image. You are not slaves…you are God's children.
He who knows this is able to transcend the vicissitudes of life, however terrifying, and look out on the world with quiet eyes. It is out of this sense of being a child of God that the genius of the religious folk songs is born.
This Sunday we welcome soloist, Jasmine Foreman. Jasmine is an 11th grade voice major at the Baltimore School for the Arts. She will sing "His Name's So Sweet", "This Little Light of Mine", and "Sometimes I Feel Like a Motherless Child."
ANNUAL EVENTS
Fall Parish Picnic – The Feast of St. Francis & The Blessing of Animals – All Saint's Sunday and the Memorial Flower Cross Armistice Day Weekend – Saturday Ol' English Tea & Sunday Guest Speaker –  Advent Wreath Making – Christmas Pageant – Feast of the Epiphany – Dr. Martin Luther King, Jr. Sunday – Ash Wednesday Services – Lenten Book Group – Holy Week Services – Pentecost Sunday – June Parish Picnic
LOCATION 1419 Odenton Road Odenton MD 21113
410-336-8383 epiphanyodenton@gmail.com