What's Happening this Week?
Epiphany Episcopal Church
Sunday, October 14, 2018
8:00 am & 10:30 am Holy Eucharist & Sermon
9:30 – 10:15 am Bible Study
9:30 am Choir Rehearsal
10:25 am Sunday School 
POTLUCK SUPPER ON WEDNESDAY, OCTOBER 24 - 6:00 - 8:00 pm
Come to the POTLUCK SUPPER for those interested in learning more about Epiphany's involvement with the International Rescue Committee
The only thing stronger than fear is hope.
The Family Mentor Coordinator for IRC, Samantha Musson, will be with us (and also another trainer). We are set to begin this  ministry once we get training. Our focus will be at least two hours per week (shared) for six months for a refugee family, most likely housed in Halethorpe, MD. Assisting a newly-arrived refugee family by helping to teach English, connect them with the community, and maybe having a social event near Thanksgiving are ways we might be able to help.
If you would like to know more and/or come to the potluck, please email
JOE MARTIN jpchicagomartin@gmail.com
WWI Centennial Weekend Nov. 10-11
Spaghetti Dinner & Centennial
Program Saturday, Nov. 10
A audio-visual presentation of the 100-page Centennial Photography Book
Epiphany Chapel & Church House: A Caring Companion
Centennial Brass Band Concert & Recording
Sunday, Nov. 11 at 10:30 am
The John Babcock Brass Band & Jarrod Lee, Bass-Baritone
More information to follow! A news release will be posted soon. Mark Hardy's Centennial Composition which was commissioned for the Chapel's Centennial (June 3) will be recorded live at the event. We need your voices along with Jarrod Lee!
Jarrod Lee, Bass Baritone, hails from Alabama and presently resides in Maryland. He received rave reviews from the Washington Post, Opera News, andMaryland Theatre Scene. Recently, Jarrod was seen in "Just Out the Window: A Tapestry of Human Journey" by Tom Minter and commissioned by the Washington National Opera., with visual language created by the Duke Ellington School of the Arts. This summer, Jarrod had a European debut in concert with The American Institute of Musical Studies in Graz, Austria. Jarrod is a 2016 finalist with the Harlem Opera Theater Vocal Competition. In 2013 he participated in American Voices, curated by world-ren own soprano Renee Fleming. Jarrod performed for President Barack Obama at the historic Metropolitan Church in Washington, DC. (JarrodLee.com)
Sunday Worship Schedule
8:00 am Holy Eucharist  & Sermon
9:30 am Bible Study
9:30 am Choir Rehearsal
10:25 am Sunday School
10:30 am Holy Eucharist & Sermon
APPLE DUMPLINGS PICKIN' & EATIN'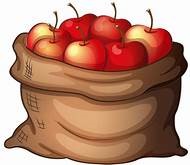 A great FUNdraiser! (The goal is $2K)
Sign-Up at the Church or contact Erin Wolfe erin.eula.wolfe@gmail.com
Saturday, October 13 Meet at the Church at 9:30 am and caravan to the orchard for apple pickin' at Larriland Farm.
Saturday, October 20 Bakers will meet at the Odenton Masonic Temple professional kitchen do create dumplings!
Donations of ingredients are appreciated. See sign-up sheet at the church.
Meanwhile, everyone is invited to sell pre-orders of Apple Dumplings Order Form
A PRIZE will be awarded to the person selling the most pre-ordered dumplings. Order now! We are limited to 400 dumplings and have already pre-sold over 100. Payments will be received upon delivery.
First Place:
A CD of the Centennial Celebration Photo Book.
The 100-page book has been completed (!) and a few copies have been ordered. It will be PREVIEWED as a slide/musical presentation on November 10 at the Parish Spaghetti Dinner.
If you would like to place an APPLE DUMPLING order(s) email Erin or sign up with thr order form at church.
Dumplings can be refrigerated for 4 days and/or frozen. They come in freezer-safe and microwavable containers.
BOOKS NEEDED FOR THE MEADE VILLAGE BOYS & GIRLS CLUB READING GROUP
The Monday Reading/Mentoring Program has begun!
Children love to have their own books!
Please DONATE new and/or used books for early readers.
There is a collection box at the Church.
What we have collected so far: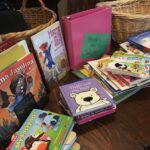 Thank you!
Dave Savignac & Bert James, Coordinators
ANNUAL EVENTS
Fall Parish Picnic – The Feast of St. Francis & The Blessing of Animals – All Saint's Sunday and the Memorial Flower Cross Armistice Day Weekend – Saturday Ol' English Tea & Sunday Guest Speaker –  Advent Wreath Making – Christmas Pageant – Feast of the Epiphany – Dr. Martin Luther King, Jr. Sunday – Ash Wednesday Services – Lenten Book Group – Holy Week Services – Pentecost Sunday – June Parish Picnic
LOCATION 1419 Odenton Road Odenton MD 21113
410-336-8383 epiphanyodenton@gmail.com